Trestle Archive
In 1981…
Trestle Theatre Company was founded by a group of students on leaving Middlesex University. The name 'Trestle' came from the trestle table; the founders of the Company dreamed of travelling around the country with a box of masks and trestle tables on which to perform. In the spirit of the Commedia dell'Arte players they hoped to be able to perform anywhere, from a town square to a village hall, a school to a theatre.

To support its education programme, Trestle developed a series of three mask sets with teaching notes to accompany them in 1994. From 1981 to 2002 the Company produced 33 shows and toured successfully to over 30 countries, mainly with full mask performances, which cross language barriers and entertain all ages.
In 2002…
Trestle moved into Trestle Arts Base and a new era for the Company began. Trestle Arts Base is a beautifully refurbished chapel which houses a theatre, rehearsal studio and meeting rooms, workshop and exhibition spaces and a thriving café. It is the home of all the Company's operations, a performance research and development centre, a tour venue for a diverse range of professional performances and a hub of creative opportunities for local and regional communities.
For the next decade, at the behest of funders, masks were hardly used in touring productions and the Company toured as Trestle Unmasked. The Company explored and made physical storytelling theatre with international collaborators and a style of physical theatre unique to Trestle was created. From 2012 Trestle no longer received regular Arts Council funding and was able to turn its focus once again to mask theatre, this time creating a new set of half masks, which unite the company's skills in mask and vocal theatre
Today…
We offer an extensive participatory programme engaging people of all ages locally, nationally and internationally. All of these programmes use mask and physical theatre to develop the artistic skills of participants, whilst also bringing about positive educational, community and health related outcomes.

For more detailed information about any of our archive shows please contact admin@trestle.org.uk and we will be happy to help.

You can also check out Trestle Theatre Company on Wikipedia here.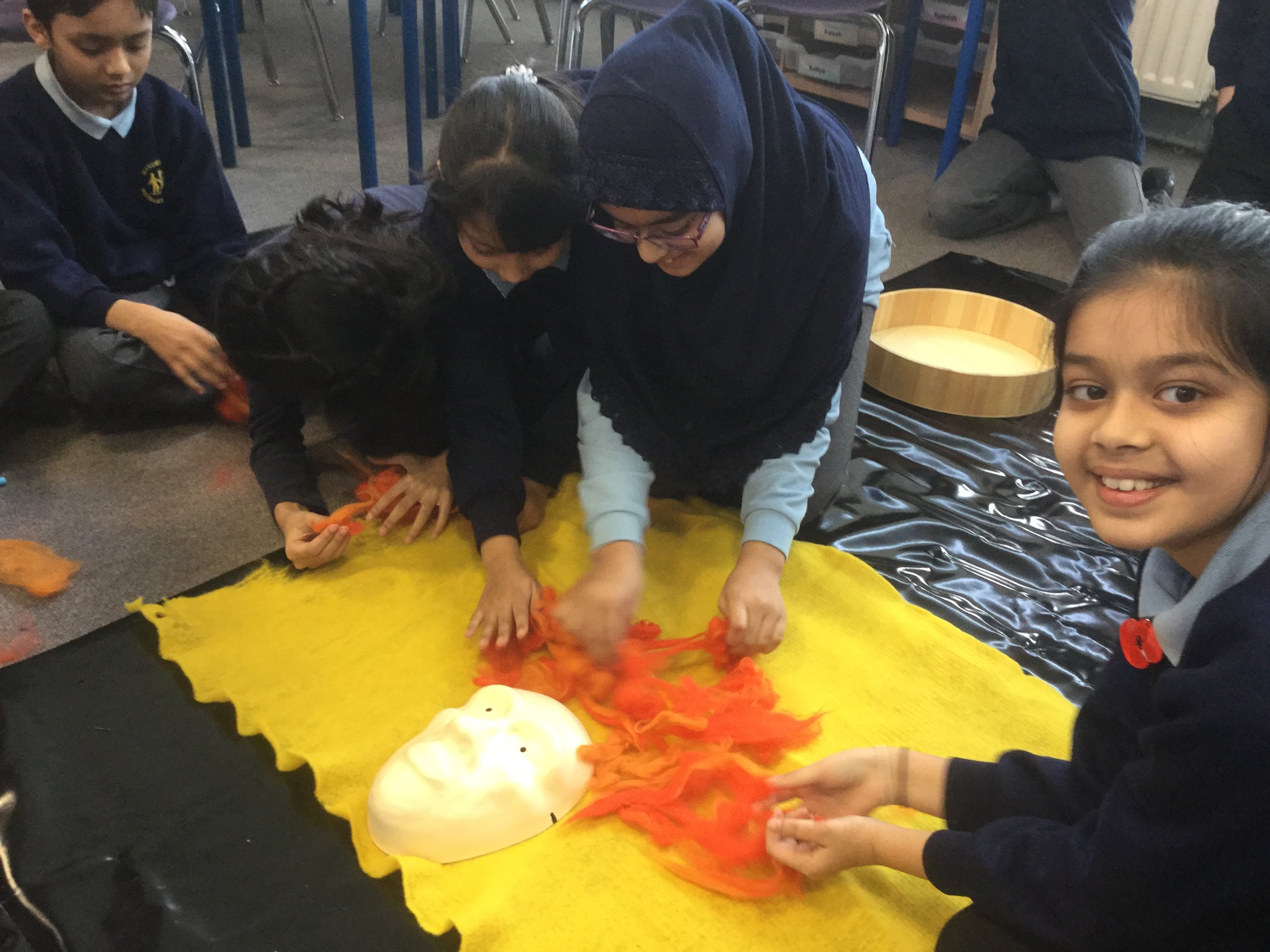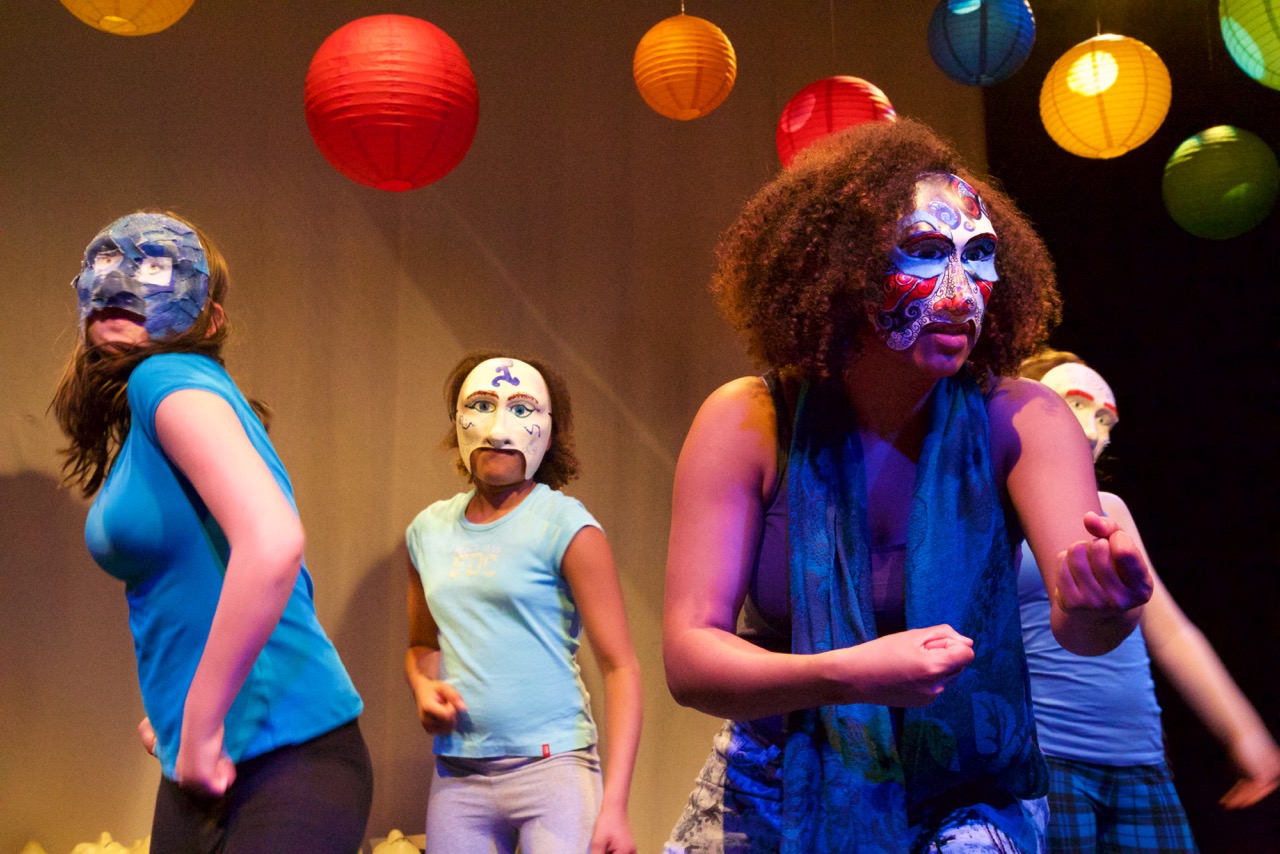 Hertfordshire's Hidden Heroines
Herts Hidden Heroines was a performance and workshop project that took place throughout 2016 funded by the Heritage Lottery Communities Fund.
We had the pleasure of discovering over 80 unsung heroines in Hertfordshire and were delighted that the project legacy will continue through the hertsmemories.org.uk website, where we hope people will continue to add to the database of fabulous female role models.
Yarico - the Musical
17 February 2015 – 28 March 2015
Yarico, an Amerindian beauty, is a young woman with great dreams and a fierce, independent spirit… When Inkle, the third son of a British merchant is shipwrecked on her island, he faces certain death at the hands of the islanders. In a courageous act, Yarico intervenes and saves him from his fate, marking the beginning of an extraordinary love story, which ultimately takes them to the island of Barbados.
The Deadlies
March to May 2014
The Deadlies was a performance and participation piece offering a new way of involving local people in professional performance; created in partnership with York Theatre Royal
The Deadlies' tells the story of Archie, a Yorkshire lad who has traded his home for a map that promises him adventures beyond the horizon.
The Snow Queen
23 November 2011 – 8 January 2012
Revamp tour in 2013
Presented by Unicorn Theatre with Trestle Artistic Director, Emily Gray, working as Movement Consultant
Based on the story by Hans Christian Andersen, this telling was developed by Indian writer, Anupama Chandreshekar, supported by the British Council through Connections through Culture UK-India.
The Man with the Luggage
21 September – 21 November 2011
Informed by contemporary stories of migration and repatriation, The Man with the Luggage explored our relationship with home, with nationality, and with authority. It delved into our dependence on travel and the multitude of obstacles that await us on our journeys through stations, through ports, and through life.
The Birthday of the Infanta
2 March – 7 May & 22 December 2011
A one-woman interpretation of Oscar Wilde's bittersweet fairytale, re-imagined through physical storytelling theatre.
The Birthday of the Infanta is a short story by Oscar Wilde, which tells of the events arranged to entertain the princess, culminating in a performance an ugly boy, and the way in which their meeting affects both their lives forever.
Burn My Heart
21 September – 13 November 2010

Presented by Trestle in collaboration with Blindeye
Two boys' lives are changed forever, as their friendship and loyalty are blown apart by fear and betrayal. Set during the Mau Mau uprising in 1950's Kenya and the ensuing bloody State of Emergency, Burn my Heart examines themes of terror, division, and freedom.
Twelve Fifteen
A Trestle Community Company performance
2010 marked the St Albans celebration of the Magna Carta and the city's role as one of the five designated Charter Towns.
To celebrate this event, Trestle Community Company presented a fascinating production based on themes from the Magna Carta. Through a mix of physical theatre, text and stunning ensemble movement, ideas of justice, politics, class and human rights where explored.
Moon Fool – Ill Met by Moonlight
3 February – 17 April 2010
8 February – 17 March 2011
Moon Fool is an inventive re-imagining of Shakespeare's well-loved play, A Midsummer Night's Dream. In this engaging, funny and visually striking production, Titania, Oberon and Puck play out events from their past, hosting nightly revels in their attempt to woo audiences off the path and back into the woods. Combining original music and playful movement, Moon Fool is the fairies' tale with an amplified twist.
2000 - 2010
Between 2000 - 2010 Trestle created and toured, 11 new works including a series of 'unmasked' pieces.
1981 - 2000
Between 1981 - 2000 Trestle created and toured, 15 new works which travelled the length and breadth of England as well as visiting Australia, Brazil, Egypt, Japan and the Czech Republic among others.